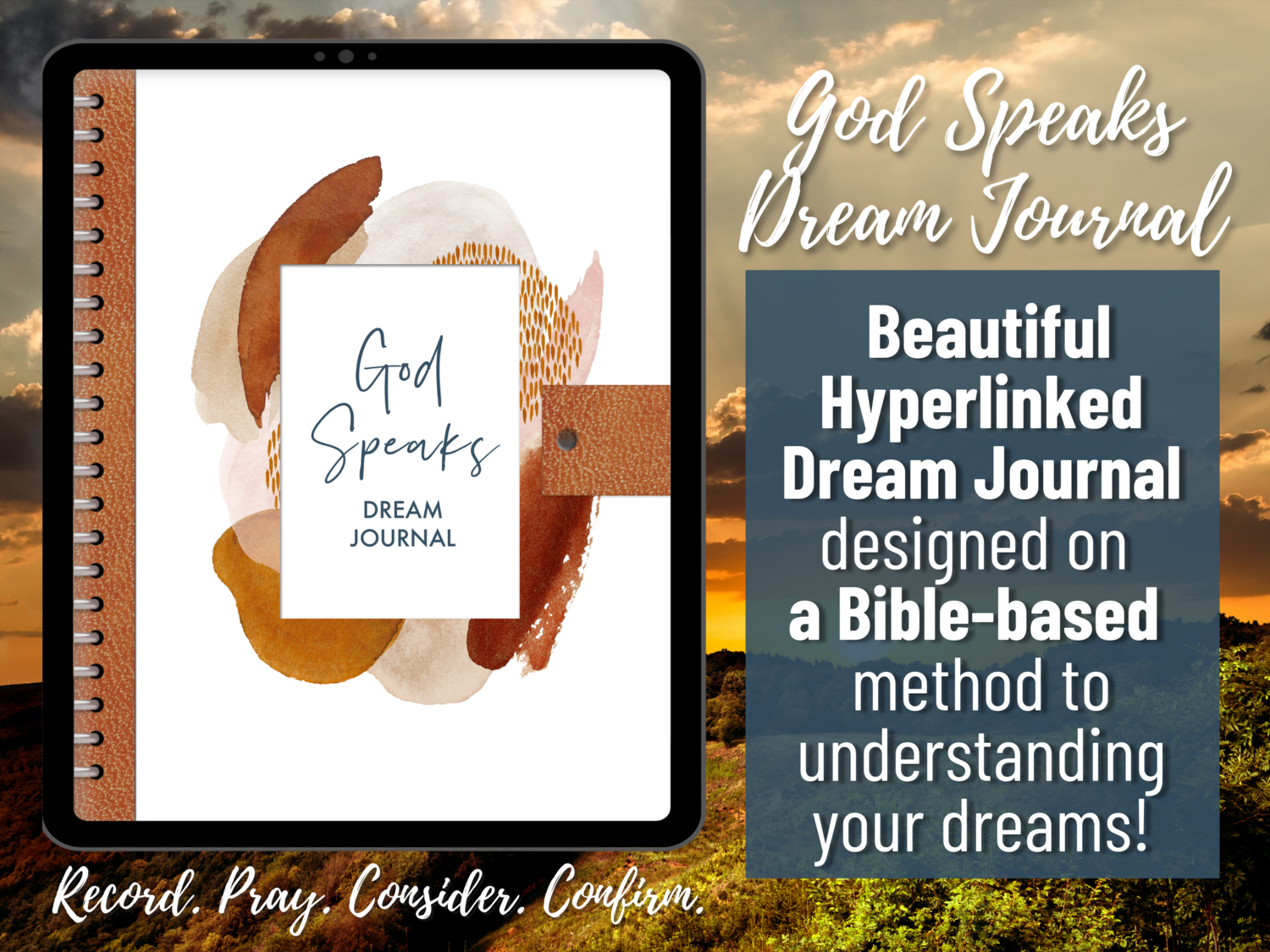 God Speaks Digital Dream Journal
00001
To Use With Note-Taking Apps on Tablets Like GoodNotes, Notability & Noteshelf
Product Details
Brand:
Digital Download (Browsers supported for Download: Safari, Chrome, Microsoft Edge)
Do you wonder if your dreams have special meanings? Do you wonder if the Holy Spirit uses a dream to communicate a message to you?
In Scripture, God uses dreams to do just that, so shouldn't we pay more attention to our dreams? Jesus used symbolic language to convey important teaching messages in parables. Dreams, too, use symbolism to convey a message. How can we understand the meaning of the symbols in our dreams? The answer: By going to Scripture!

The God Speaks Dream Journal helps you record and consider your dreams using a BIBLE-BASED method, a method reliant on Scripture and the Holy Spirit as the way to understand your dreams and the God-inspired callings in them.
The dream journal provides beautifully designed spaces to record your dreams while spending time with God, asking the Holy Spirit to help you understand the messages in them. As you spend time journaling, you then confirm the dream's interpretation by going to Scripture... it's the litmus test. (God will never contradict His Word!)

With so many conflicting messages in the world today, this journaling process helps you recognize His Truth by drawing you into a closer relationship while strengthening your knowledge of His Word.

The journal includes Dream Details pages, Dream Action pages, & Dream Interpretation pages. Also included: Dream Symbols pages to build a reference list of the symbols in your dreams with the scriptural meaning of those symbols.

Artfully designed with coordinated colors with gold accents, the journal contains 380 pages so you can record, consider, pray, and confirm and plan all in one place.

Why I Love Digital Journaling: Have you ever tried to find something you've written in the past, but had trouble locating it? Good news: Apps like GoodNotes and Noteshelf can search your handwriting, so you can easily find what you have written!

WHAT IS INCLUDED:

* 380 Hyperlinked Pages
* Hyperlinked tabs and Quick Links
* Dream Details: Quickly get your dream down before it fades from memory
* Dream Action: Included space to sketch out your dream if you prefer
* Dream Interpretation & Response
* Dream Directives: Record God-given tasks and callings
* Dream Symbol List - Build your own reference library unique to you!
* Monthly tabs & organization
* The Dream Journaling Process instructions
* Bonus: Digital Stickers
* Blank Pages to Use However You Desire!

GREAT FOR:

* Dream recording & interpretation based on Scripture
* Personal Reflections
* Quiet Time Revelations
* Confirmation though Scripture
* Remembering God's Faithfulness
* God-Given Callings, Dreams and Action Steps


❖ BONUSES!! ❖

❖ Over 1,100 Digital Stickers

❖ Beautifully designed Bible Promises Digital Stickers & Journaling Stickers

❖ Free Online Course: God Speaks: How to Listen & Confirm God's Voice


❖ WHAT YOU GET ❖


1 - God Speaks Dream Journal.pdf
2 - Zipped file: Digital Sticker Bundle 1 - PNG Sticker Bundle
3 - Zipped file: Digital Sticker Bundle 2 - PNG Sticker Bundle
4 - Zipped file: Digital Sticker Bundle 3 - PNG Sticker Bundle (All combined, you get over 1,100 Digital Sticker PNG files)
5 - PDF "Instructions and Thank You" - Instructions on how to Download from Etsy, the Tools You'll Need, Choosing a Note-taking App, Importing into Your App, and Importing/Using Digital Stickers. ALSO IN THIS PDF FILE: How to Access the Free Online Course: "God Speaks: How to Listen & Confirm God's Voice"
❖ IMPORTANT - PLEASE NOTE ❖
No physical product will be shipped. This is a digital item with instant download

.

Tablet, Apps and Apple Pen or Tablet Stylus are not included. (You will want an Apple pen or a stylus!)

This product is designed for digital use and not for printing.
Compatible Devices:
Apple iPad
Android Tablet
Microsoft Surface / Tablet
Compatible Apps:
Note-taking apps that allow PDF import. (Examples: Goodnotes, Notability, Noteshelf, Xodo)
❖ HOW TO ACCESS YOUR DIGITAL PRODUCT ❖
Read the "Instructions and Thank You" PDF file that I've included in your order with instructions.
Details to access your bonuses are in the "Instructions" PDF file.
❖ WHY I MOVED TO DIGITAL JOURNALS AND PLANNERS ❖
I've been journaling since I was in middle school, and I have stacks and stacks of journals. Since 2015, I've been recording my dreams and interpreting the symbolism by referring to scripture. Often I want to refer back to something I've written — a special Word, or some symbol in a dream — but I have difficultly locating the entry. Digital note-taking apps (like GoodNotes) are now able to do handwriting word searches! Now I can find my entries!
❖ CONSIDER BEFORE YOU PURCHASE ❖
This product is a digital product for instant download.

As such, there are NO REFUNDS or order cancellations.

This product is for your personal use and cannot be resold or redistributed. It is not authorized for commercial purposes. Please do not share these files. Thank you!
❖ Still Need Help? ❖
Message me here: https://kellylangston.com/contact/
---
Copyright © 2022 Langston Marketing Services
Save this product for later