FreshWordStudio
Digital Journals & Planners for Your Time With Jesus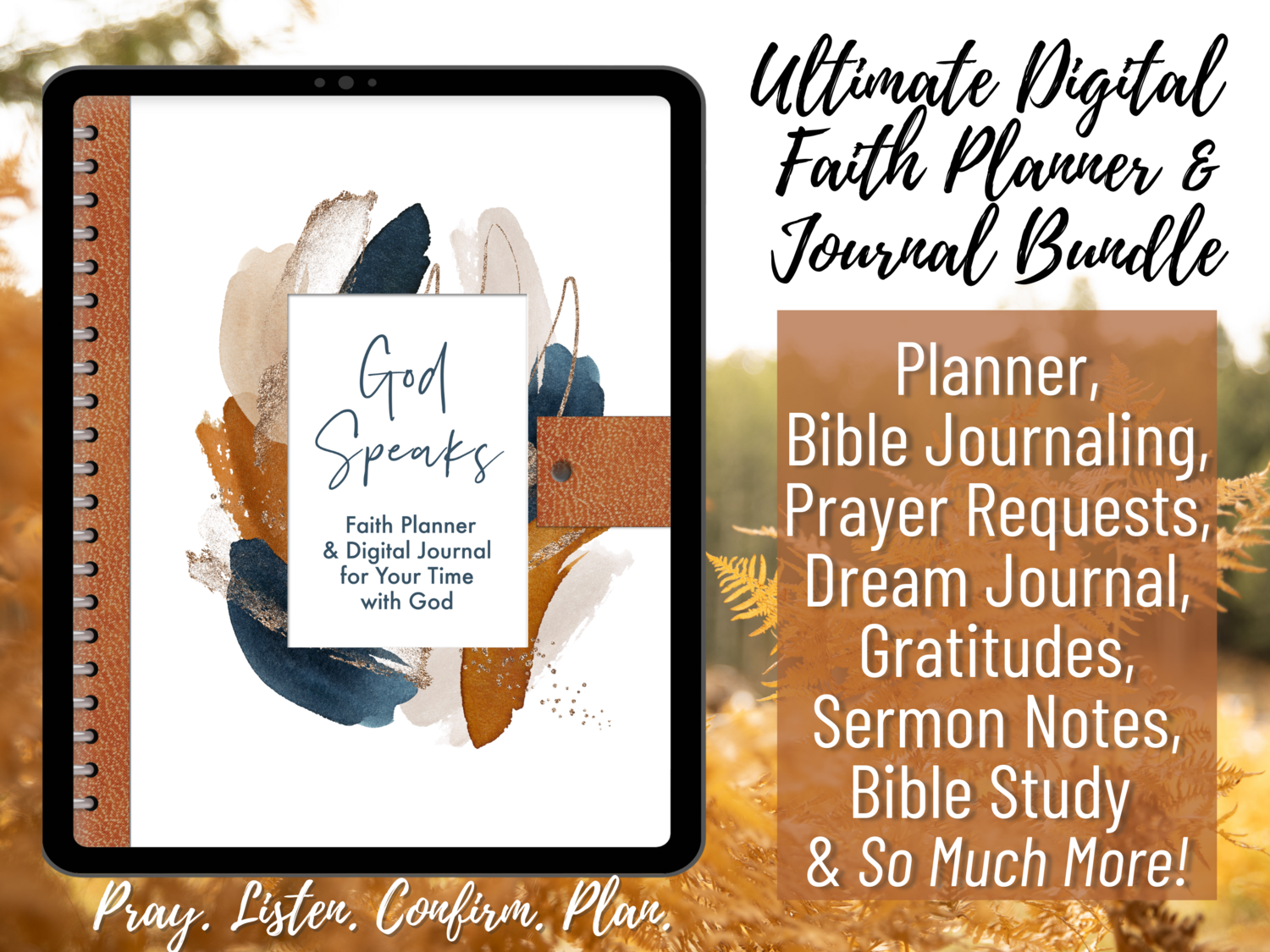 God Speaks Faith Journal and Digital Planner
00000
To Use With Note-Taking Apps on Tablets Like GoodNotes, Notability & Noteshelf
Product Details
Brand:
Digital Download (Browsers supported for Download: Safari, Chrome, Microsoft Edge)
Invite God into your day by creating a space for His still, small voice to speak to you. Yes, God speaks today, and He has a plan and purpose for your life!
The God Speaks Faith Journal and Digital Planner provides beautifully designed spaces to connect with God each day, allowing Him to respond through the Holy Spirit and guide you in your planning. It includes a dream journal, sermon notes pages, a gratitude journal, and bible study pages... and so much more!
What Makes This Planner Different:
I designed the digital planner sections and a "Revelations" section (including a Listening Journal and a Dream Journal) of this Christian planner around the "Pray. Listen. Confirm. Plan" method that I teach in my online course "God Speaks: How to Listen & Confirm God's Voice." (Bonus: You get free access to this course!) You'll love this method of listening, recording what you hear in your planner, then confirming it through Scripture.
❖ Special Features in the God Speaks: Faith Planner & Digital Journal ❖
Hyperlinked Tabs and Index Page
Undated Digital Planner / iPad Planner - Use it for multiple years!
Yearly Planner | Monthly Planner | Weekley Planner | Daily Planner
Productivity Planner - Review your progress as you set and meet goals
Daily Journal - Easily find past entries via the handwriting search feature in note-taking Apps like Goodnotes, Notability, and Noteshelf (Apps, Tablet & Stylus not included.)
Dream Journal - Beautiful journal pages to record & interpret dream symbolism with Scripture
Listening Journal - Listen, Record, and Confirm What God is Speaking to You!
Gratitude Journal - Remembering God's Goodness!
Bible Study
Sermon Notes
My Callings - Record God-inspired callings and set your steps to reach them
Goals Overview | Goal Planner
Goal Tasks | Goal Review
Budget Tracker
Revenue Tracker
Expenses Tracker
Health Tracker
List Page Template
Lined Page Template
Dot Matrix Page Template
Grid Page Template
Beautiful color palette
Vividly color-coordinated divider pages
Special "God is Still Speaking" - Biblical support answering the question, "Does God Still Speak Today?"
❖ BONUSES!! ❖
Over 1,100 Digital Stickers
Beautifully designed Bible Promises Digital Stickers SPECIFICALLY chosen for this planner
Free Online Course: God Speaks: How to Listen & Confirm God's Voice
❖ WHAT YOU GET ❖
God Speaks Faith Planner & Digital Journal
Zipped file: Digital Sticker Bundle 1 - PNG Sticker Bundle
Zipped file: Digital Sticker Bundle 2 - PNG Sticker Bundle
Zipped file: Digital Sticker Bundle 3 - PNG Sticker Bundle (After unzipping the files, you get over 1,100 Digital Sticker PNG files)
"Instructions and Thank You" PDF File: Instructions on how to use the planner/journal...The Tools You'll Need, Choosing a Note-taking App, Importing into Your App, and Importing/Using Digital Stickers. ALSO IN THIS PDF FILE: How to Access the Free Online Course: "God Speaks: How to Listen & Confirm God's Voice"
IMPORTANT - PLEASE NOTE:
No physical product will be shipped. This is a digital item with instant download

.

Tablet, Apps and Apple Pen or Tablet Stylus are not included. (You will want an Apple pen or a stylus!)

This product is designed for digital use and not for printing.
Compatible Devices:
Apple iPad
Android Tablet
Microsoft Surface / Tablet
Compatible Apps:
Note-taking apps that allow PDF import. (Examples: Goodnotes, Notability, Noteshelf, Xodo)
❖ HOW TO ACCESS YOUR DIGITAL PRODUCT ❖
Read the "Instructions and Thank You" PDF file that I've included in your order with instructions.
Details to access your bonuses are in the "Instructions" PDF file.
❖ WHY I MOVED TO DIGITAL JOURNALS AND PLANNERS ❖
I've been journaling since I was in middle school, and I have stacks and stacks of journals. Since 2015, I've been recording my dreams and interpreting the symbolism by referring to scripture. Often I want to refer back to something I've written — a special Word, or some symbol in a dream — but I have difficultly locating the entry. Digital note-taking apps (like Goodnotes) are now able to do handwriting word searches! Now I can find my entries!
❖ CONSIDER BEFORE YOU PURCHASE ❖
This product is a digital product for instant download.

As such, there are NO REFUNDS or order cancellations.

This product is for your personal use and cannot be resold or redistributed. It is not authorized for commercial purposes. Please do not share these files. Thank you!
❖ Still Need Help? ❖
Message me here: https://kellylangston.com/contact/
---
Copyright © 2021 Langston Marketing Services
Save this product for later